​Friday - January 26, 2018Fellowship Potluck and Presentation
Clipper Round the World Race by John Carey

Hosted by Mike and Penny O'Byrne
6pm: Cocktails
7pm: Dinner
8pm: Presentation
Contact Mike or Penny for RSVP and food sign up
(h: 425.455.0878 - c: 206.660.4225)

Wear your name Rotary nametags
3035 Fairweather Place, Hunts Point, WA 98004
---
---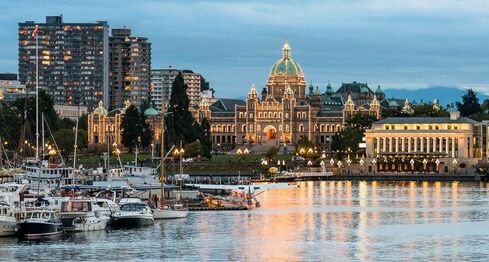 The 35th Annual
​Hands Across the Border Rendezvous
​The 35th Annual IYFR "Hands Across the Border" Rendezvous
will be held in Sidney and Victoria BC
on the weekend of June 29th through July 2nd as part of the 2018 Rotary Post Convention Cruise

An annual US/Canada Rotary event through the International Yachting Fellowship of Rotarians.


---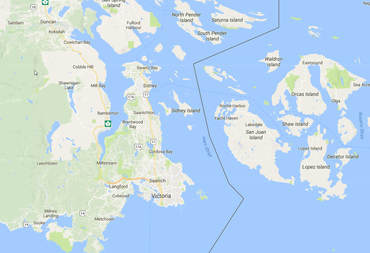 ​For many years, the third weekend in August has been reserved for "Hands Across the Border," a rendezvous hosted in alternate years by Canadian and US fleets. Started in 1983 as a goodwill gathering between Seattle Rotary Mariners and the Vancouver Island fleet, this tradition has grown to include six fleets and visiting Rotary Mariners from around the world. It has become one of the highlights of the summer boating season.


---
---

August 15, 2017Duck Dodge on Lake Washington
- Every Tuesday night in the summer for the past 30 years, sailboaters from novice to experienced invade Lake Union to participate in one of four boat classes from Fast to dinghies. Each week there is a different theme and August 15th is Pajama Party. You can participate on a Peter Delaunay's or Mike O'Brien's sailboats or with Sue Nixon on her houseboat safely secured to the dock.
​This week's Duck Dodge theme is "Pajama Night".
Please bring food or beverages to share.
You must RSVP to participate:
Adventurous Sailors - Pete Delaunay - RSVP pete@delaunay.com or 206-579-4883. - Leaving the
Queen City Yacht Club
at 5:30pm
Non-Boaters on Sue Nixon's houseboat - RSVP daron.vchulek@polyclinic.com - Sue's house is located at 2331 Fairview Ave E slip 9
---
---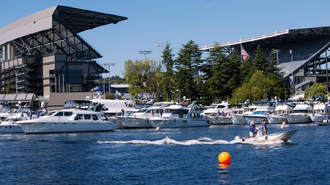 September 16, 2017University of Washington Husky vs Fresno State Bulldogs by boat
- Exclusive Rotary Day discount ticket offer, Save 40% off the normal ticket price and interact with fellow Rotarians from the Seattle area. Family and friends are welcome to join in the fun.

​Ticket prices for the game are $35/seat and $40 for the boatride aboard the the Argosy which leaves from Chinook's Restaurant at Fisherman's Terminal at 5pm. There is free parking at Fisherman's Terminal. The boat heads back 30 minutes after the game.


​You will need to purchase tickets for the game here: Click Here
and purchase your boat tickets here:
Click Here
---
---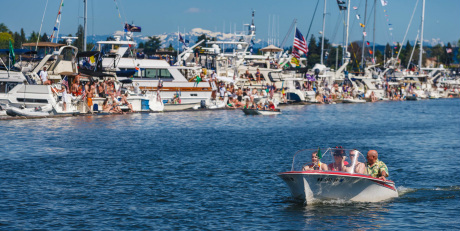 MAY 6, 2017
Seattle's Opening Day of the Boating Season is held annually on the first Saturday in May. Seattle Rotary Mariners participate along with other yacht clubs in the opening ceremonies, and also sponsor an entry in the boat parade.

After passage through the Montlake Cut into Lake Washington, the Mariners make their way, by land or by sea, to a waterfront home for an afternoon of kibitzing and enjoying potluck buffet offerings.

---
---

Off-season traditions include a holiday potluck in winter, a Valentine's Day dinner, and several other gatherings either at members' homes or yacht clubs. Most events include programs with nautical themes. These gatherings often are shared with members of another nearby fleet. Memorable tours have included yacht builders' facilities and even the Coast Guard's Polar Star icebreaker.